Amazons
Description:
The Household of Amazons has a dual nature.
Foremost is the call to serve.
Service itself being defined as getting up and doing,
volunteering, getting done the hundreds of little
things that most other Amtgardians are unwilling to
do, or unable to do.

Secondly, our purpose is to promote a positive and
dynamic image of women in Amtgard by supporting women
in every role within the club, on and off the field.

"If a female in Amtgard were to choose only one
household, this is the one it should be.
We are a place where a woman, no matter her age, can
draw strength from her gender.
Where she has, at her side, women willing to teach her
and learn from her.
Whether she seeks encouragement and skill on the
battlefield, advice and inspiration for her artistic
endeavors, strives for yet another recipe to whip up
and serve to the hungry masses at yet another feast,
or quests for counsel to help her lead her group
albeit a small group of friends, her park or her
kingdom, this is where she knows she can find it all."

~Mistress Wynd~
History:
Clan 1990: Andralaine and Esoum began the Amazons.

1992: Weilok was asked by Esoum and Andralaine to
become the third High Mother of the Amazons at a Cabillo Lake event.

The Household of Amazons has the honor of being one of
the largest and oldest Households in Amtgard.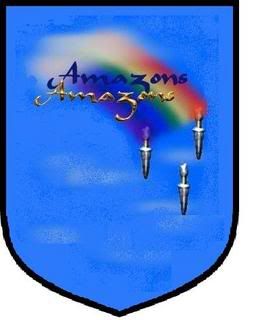 Colors:
Rainbow and Daggers